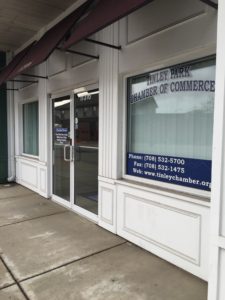 The Tinley Park Chamber of Commerce is proud to celebrate over 65 years of serving the Tinley Park community! Over the years, the Chamber has remained steadfast in encouraging the growth and prosperity of our business community. Founded in 1955, the Chamber has remained true to fulfilling our first mission statement "Vision to see, faith to believe, and courage to do." For 65 years, courageous individuals have been "doing," helping turn this business and residential community into the star of the southwest suburbs.
As the "pulse of the business community" the Chamber office fulfills many needs and offers numerous benefits and services to our members. From customer referrals, conference room rental to exclusive member discounts the Tinley Chamber is constantly seeking ways fulfill our current Mission: The Tinley Park Chamber of Commerce is committed to bringing innovative information and opportunities to businesses and the community to create a strong economy.
The Tinley Park Chamber of Commerce is honored to represent such a superb community and is proud to have had such an active role in creating an optimum environment in which to live, work, and play!
---