Host Donna Framke talks with Dave King of Sleep in Heavenly Peace; Kristin and Steve Rosko of Fresh Coat Painting, and Donna Furmanek of "To Life" Everyday Yoga and Wellness.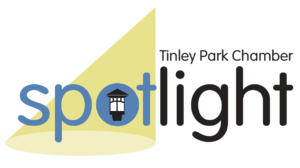 Chamber Members are invited to be a guest on the Tinley Park Chamber of Commerce Cable Television Program, The Tinley Park Chamber Spotlight! The show tapes on the first Wednesday of each month and airs the first business day of the following month. Each guest gets a nine-minute interview spot to highlight their business, events and specials. Each guest will receive an edited version of their show, once completed. The Chamber is delighted to work with the volunteers of the Community Resources Commission on this Cable Show!
The edited shows will run for a full month on Tuesdays at 6:30pm on Comcast Channel 19, Tinley TV YouTube Channel, Comcast Channel 4 and AT&T U-verse Channel 99!
Chamber Spotlight Archive